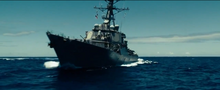 John Paul Jones (DDG-53) was the Arleigh Burke-class Destroyer on which Alex Hopper serves as Tactical Action Officer, later commanding the ship after the Captain and Executive Officer are killed.
Technology & Combat Characteristics
Edit
Regent Invasion
Edit
USS John Paul Jones was one of the three ships, along with USS Sampson and JDS Myoko, sent to investigate the regent landing. After the aliens used their Pulse Cannon, the destroyer was tasked to fire the warning shot. After firing, the regents retaliated, firing their guns at John Paul Jones. While the Phalanx CIWS defended the ship, it missed one missile, exploding at the right bridge wing of the ship, killing the Commanding and Executive Officers as well as damaging the ship. After Sampson was destroyed, under the command of Hopper, the ship tries to retaliate, but was forced to rescue the sailors of Myoko, after it was sunk. Eventually, the John Paul Jones was destroyed by shredders, but the crew survived, and went to reactivate the USS Missouri.
The USS Jone Paul Jones is an active real-life Arleigh Burke-class Destroyer.
References
Edit
Ad blocker interference detected!
Wikia is a free-to-use site that makes money from advertising. We have a modified experience for viewers using ad blockers

Wikia is not accessible if you've made further modifications. Remove the custom ad blocker rule(s) and the page will load as expected.